DELPHINE REIST, VRAC MULTIVRAC
11.06.2022 — 31.12.2022
Frac Grand Large — Hauts-de-France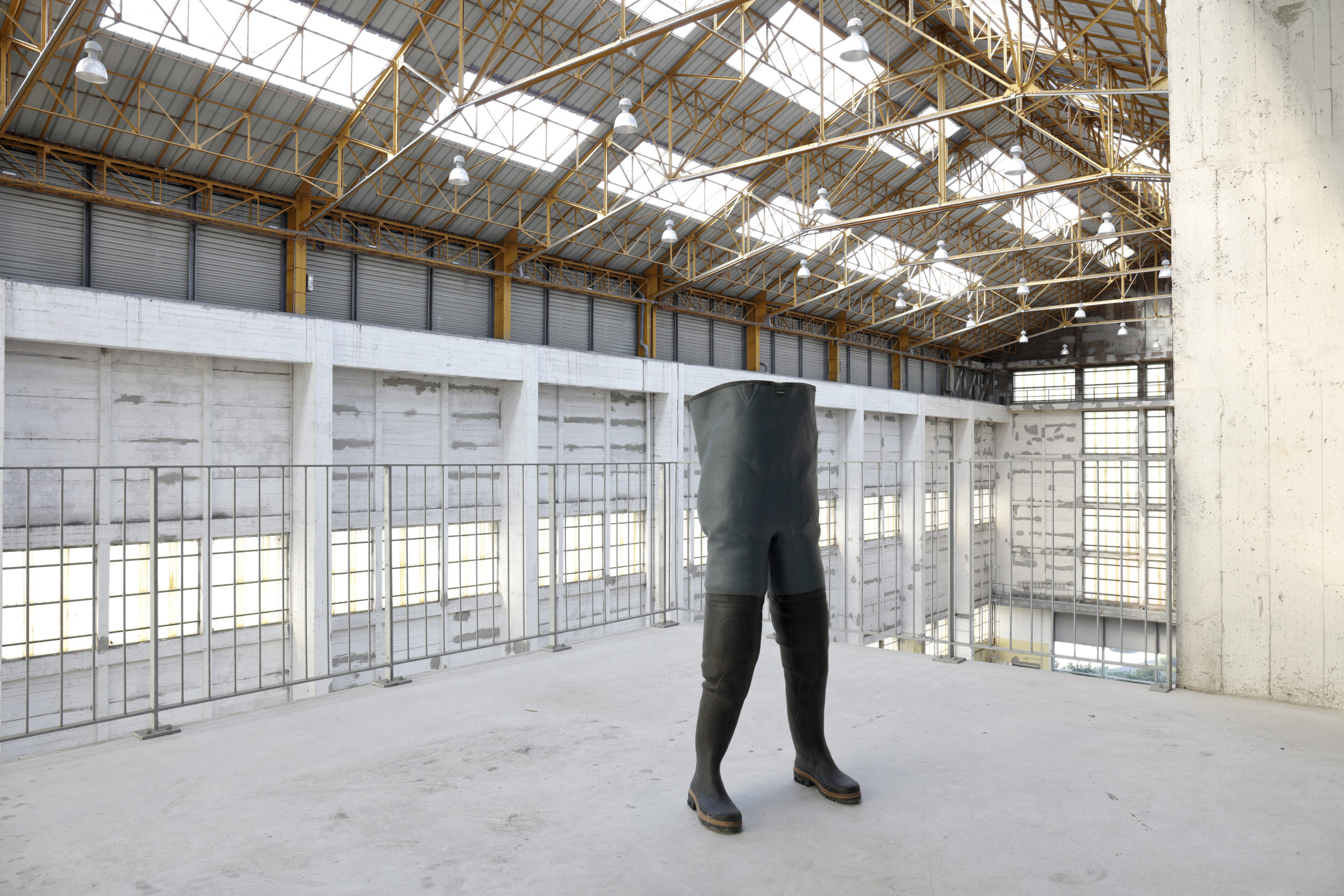 Curators: Keren Detton & Claire Hoffmann
Delphine Reist's exhibition occupies a number of spaces at Frac Grand Large, beginning with the forecourt and its "necklace" of tyres. It continues along the indoor street with the installation of a production line and in Hall AP2 it resonates each time the overhead crane is set in motion.
Since the closure of the shipyards, of which the Frac building is the last vestige, the port of Dunkirk's move into bulk goods transport has made it the third largest port in France. With the title VRAC MULTIVRAC ("bulk in bulk") Reist connects us to an economic reality which, its fluctuations aside, finds expression in materials and bodies. The artist sums up this material reality through objects and footprints sampled, displaced or repurposed.
Machines, tools and consumables no longer seem to need us. Erect and automated, they invent new functions for themselves, revealing an absurd, astonishing world in which portable electrical appliances suddenly come to life, a circular ballet of chairs on casters leaves its tracks on the floor, and overturned buckets of concrete embody an accidentally jammed production line. Chosen for their archetypal quality, these objects bear witness to the deep-rooted trends that are transforming our societies: urban concretisation, an increasingly dominant service sector and the depletion of resources. They do not become symbols, however: their mere presence is enough to project alternative representations of work – of its spaces, rhythms and myths.
Androgynous boots, a chaotic cadence, a bell ringing at random, haunting smells, dripping oil: if the exhibition sometimes gives off a game-over atmosphere, we also find in it exuberant recollections of the christening of ships, and shadowy crates morphing into gigantic liners. Delphine Reist's objects, then, are populated by ghosts, but they are also metamorphosed by a mechanism whose blend of the erotic and the burlesque embeds them firmly in our present.
Throughout the exhibition the works are accompanied by extracts from Julie Gilbert's book OUI. C'EST BIEN. Portrait de Delphine Reist (art&fiction, Lausanne, 2022), written during the preparation of the exhibition and available at the Frac bookshop.
This exhibition has been organised in conjunction with the Swiss Cultural Centre as part of its On Tour in Dunkirk event; and with the support of the Swiss Arts Council Pro Helvetia, the Fonds Cantonal d"Art Contemporain (Geneva), the City of Geneva, the Mäder Group and Daudruy Van Cauwenberghe & Sons and Wonder/Fortin.
Date(s)
11.06.2022 — 31.12.2022